Date
May 14th - May 30th, 2018
Team
Seán Conroy (Creative Lead, VFX Artist, UX Design)
Samantha Yueh (Scrum Master, UI/UX Design)
Nick Kubash (Concept Artist, 3D Artist)
Viet Phan (Developer)
Andy Yao (Developer)
Thalita Karina (3D Animator)
Manni Zhang (3D Animator)
Project Goal
Small Stage is a non-profit organisation that presents dances of various styles, traditions and cultures. Their shows are designed to be both entertaining and highly accessible. With this project, they wanted to expand on this philosophy by exploring the idea of bringing the performance off the stage and allowing it to be seen by anyone, anytime and anywhere.
Challenges
- Short production time (13 working days)
- First time using Vuforia
- First time working with new team
My Contributions
- As Creative Lead, I guided the direction of the project and determined the best actions to take.
- Created various particle systems and shaders to enhance the visual look of the prototype.
- Helped construct a user flow that was accessible for users who were new to AR.
- Set up the Vuforia marker system, which served as the foundation for later development.
Personal Takeaways
- Learned to manage project scope, feature prioritisation and client expectations.
- Learned how to develop AR experiences using Vuforia.
- Improved my knowledge of Unity's particle editor.
Much like the other projects that my team worked on within the xR Prototyping Lab, the short production cycle meant that we dived into brainstorming as quickly as possible. Prior to meeting with our client, the team spent some time generating initial ideas based on the brief that we had received ahead of time. This gave us starting points for further idea generation for when we met with the client later.
We ensured that these brainstorming sessions were a collaboration between the client and the team, bouncing ideas and inspiring each other to settle on a solution that we could quickly begin to prototype.
Initial Idea Generation (left), Prioritising Features (middle), User Flow Planning (right) 
A few days after our first meeting, we had organised a motion capture session with
The Sawmill
so that we could accurately capture the performance of each dancer, improving the efficiency our animation pipeline. During that morning, each dancer had a rehearsal session, making slight tweaks and adjustments to their routine to better optimise it for the motion capture recording.
Rehearsals in the CDM Hangar
After a quick lunch break, we headed out to The Sawmill's studio to get each of the 4 dancers recorded. Each one got suited up, fitted with tracking markers and had 3 takes each, including a warm-up take. At the end of the session, The Sawmill offered to also clean up the recorded data, to lessen the workload of our two animators, allowing our team to get these high-quality animations into a working prototype much sooner.
Each recording was structured much like film take
Live animation recording in action
We began building prototypes the day after our first meeting with the client, ensuring that we could quickly prove a concept, testing if it would work or if we should consider another approach. We would actively invite the client to test each prototype that we made, receiving additional feedback and allowing for further collaboration to determine the best direction to follow.
Early prototype featuring a dancer's animation
Testing and collaborating with our client
An effective strategy that we developed during this project was to split different features of the application into smaller, more specific prototypes. This allowed us to develop more efficiently and made it possible to test each different feature in a fast and effective manner.

Separate particle system prototypes
13 days after we'd had our first meeting with our client, we handed off the final prototype that we'd created. As this was the first of the 5 projects we'd be working on, it was incredibly rewarding to see what we, a brand new team, could produce after working together for such a short amount of time.
The client was absolutely delighted with what we had created, already planning the launch and future development of the prototype over the remainder of the year. This short project was just the beginning of what would be many more highly enjoyable experiences as part of the xR Prototyping Lab.
Final demonstration with our client
Final prototype and AR marker
A couple of months after our team completed this project, our client had published the first version of the application to the App Store and Google Play store. Small Stage had a series of dances over the month of July where they showed the AR application alongside the live performing dancer. On Canada Day, 10,000 people saw what we had created and, throughout 15 other shows, a further 3,000 people were present.
Knowing that something we had created in such a short time was seen by so many was a truly rewarding experience.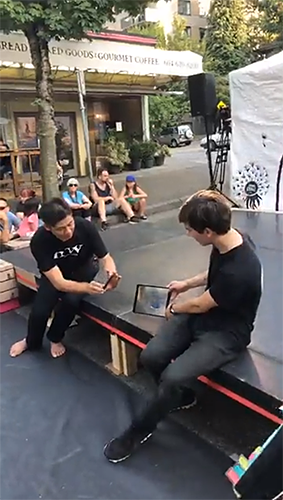 Small Stage demonstrating the application